*İngilizce metnin altında Türkçe açıklama vardır.
International Engravist Printmaking Activities, call for artists for the e-exhibition.
Engravist invites artists from all over the world to exhibit in printmaking in order to integrate with art, dream of a more beautiful world with the power and inspiration of art, during the pandemic that is happening in the world.
Engravist has added more than 500 works to its collections and brought together with art lovers, with 12 workshops, 12 exhibitions and more than 400 artists, each of which is international. Thus, it has become an important institution that contributes to the development, spread, promotion and education of printmaking art.
In this process, in which people are closed to their homes, what the digital environment offers are used extensively. As in every field, in this way, it has been tried to be connected with people in the field of art.
Engravist will organize an e-exhibition based on the positive effect of art on psychology and to contribute to providing a better world vision to people.
The exhibition is open to the participation of artists from all over the world.
International Engravist Printmaking E-Exhibition
All printmaking techniques will be accepted.
All sizes will be accepted.
The works that will participate in the exhibition will be approved by the jury.
Only one work of each artist will be accepted. It will be determined by the jury which works of those who send more than one work.
Each participant will be given a digital participation certificate.
All works will be published as a digital catalog.
Applications will only be received through the email address engravistanbul@gmail.com
The deadline is 7 May 2020.
Information required in the application:
Artist name-surname
Country
Instagram address (Not compulsory)
High resolution work visual
Work information: technique – size – title of work – year – number of editions and edition number of the work
A message that will not exceed 2 sentences. (What would you like to say for a better world?)
Organization Community
Orginazation Chairman Assoc Prof. Lütfü Kaplanoğlu
Creative Director Derya Aydoğan
Juries
Prof. Melihat Tüzün
Assoc. Prof. Burhan Ahmeti
Assoc. Prof. Lütfü Kaplanoğlu
Assoc. Prof. Erhun Şengül
Assoc. Prof. Musa Köksal
Assoc. Prof. Sezin Türk Kaya
Instructor Dr. Erkin Keskin
Uluslararası Baskıresim E-Sergisi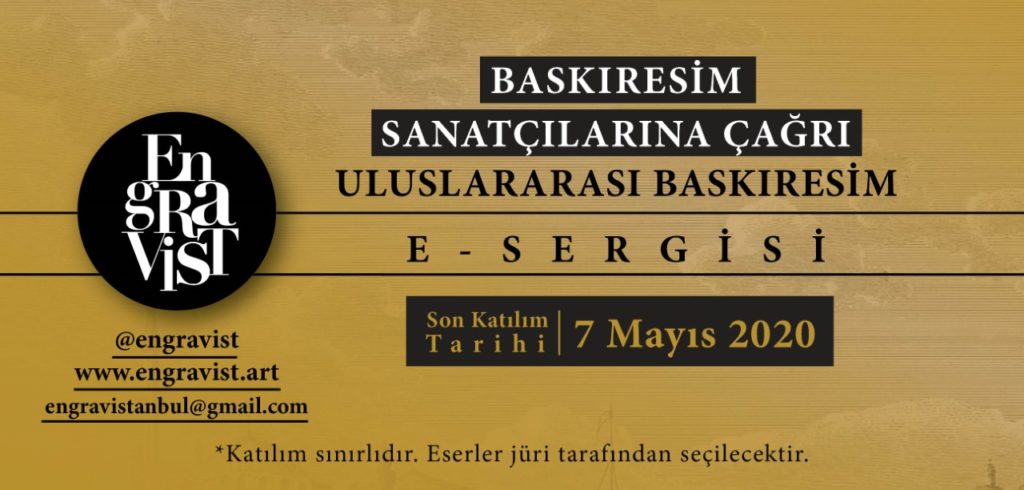 Uluslararası Engravist Baskıresim Etkinlikleri, düzenleyeceği e-sergi için sanatçılara açık çağrı yapıyor.
Engravist, Dünyada yaşanmakta olan Pandemi süresinde sanatla bütünleşmek, sanatın gücü ve ilhamı ile daha güzel bir dünya düşlemek için dijital ortamda düzenleyeceği baskıresim sergisine tüm dünyadan katılımcıları davet ediyor.
Engravist, bugüne kadar her biri uluslararası nitelikte 12 workshop, 12 sergi ve 400'ü aşkın sanatçı katılımı ile 500'den fazla eseri koleksiyonuna katmış, sanatseverlerle buluşturmuştur. Böylece baskıresim sanatının gelişimine, yayılımına, tanıtımına, eğitimine katkı sunan önemli bir kuruluş olmuştur.
İnsanların evlerine kapandıkları bu süreçte dijital ortamın gücü yadsınamaz derecede kendisini göstermiş ve her alanda olduğu gibi sanat alanında da bu şekilde insanlarla bağ kurulmaya çalışılmıştır.
Engravist, sanatın psikolojiye olumlu etkisinden yola çıkarak ve insanlara daha güzel bir dünya vizyonu sağlanmasına katkı sunmak amacıyla e-sergi düzenleyecektir.
Uluslararası Engravist Baskıresim E-Sergisi hakkında
Sergi Dünyanın her yerinden sanatçı katılımına açıktır.
Tüm baskıresim teknikleri kabul edilecektir.
Tüm boyutlar kabul edilecektir.
Sergiye katılacak eserler jüri onayından geçecektir.
Her sanatçının sadece bir eseri kabul edilecektir. Fazla sayıda eser gönderenlerin hangi eserinin sergileneceği jüri tarafından belirlenecektir.
Her katılımcıya dijital katılım sertifikası verilecektir.
Tüm eserler dijital bir katalog halinde erişime açık olarak yayınlanacaktır.
Başvurular sadece engravistanbul@gmail.com mail adresi üzerinden alınacaktır.
Son başvuru tarihi 7 Mayıs 2020'dir.
Başvuruda gerekli bilgiler
Sanatçı adı-soyadı
Ülke
İnstagram adresi (Zorunlu değil)
Yüksek çözünürlüklü eser görseli
Künye bilgileri: teknik – boyut – eser adı – yıl – eserin baskı sayısı ve edisyon numarası
En fazla 2 cümlelik mesaj (Daha güzel bir dünya için ne söylemek isterdiniz?)
Organizasyon Komitesi
Organizasyon Başkanı Doç. Dr. Lütfü Kaplanoğlu
Kreatif Direktör Derya Aydoğan
Jüri
Prof. Melihat Tüzün
Doç. Dr. Burhan Ahmeti
Doç. Dr. Lütfü Kaplanoğlu
Doç. Erhun Şengül
Doç. Musa Köksal
Doç. Sezin Türk Kaya
Öğr. Gör. Erkin Keskin