The Engravist Printmaking Exhibition with the International Cultural Haritage is in Struga, North Makedonia
The Engravist that is the most comprehensive international printmaking activity in Turkey has a theme of Cultural Heritage. The Engravist exhibition consists of 39 artworks of 39 artists from Turkey, North Makedonia, Serbia, Ukraine, China, Iran, Greece, Slovakia, Belarus, Australia, Croatia ,Bangladesh, İtaly, Bulgaria, Switzerland/Kosova. The exhibition will be opened between 29 June 2019 in Struga, North Makedonia.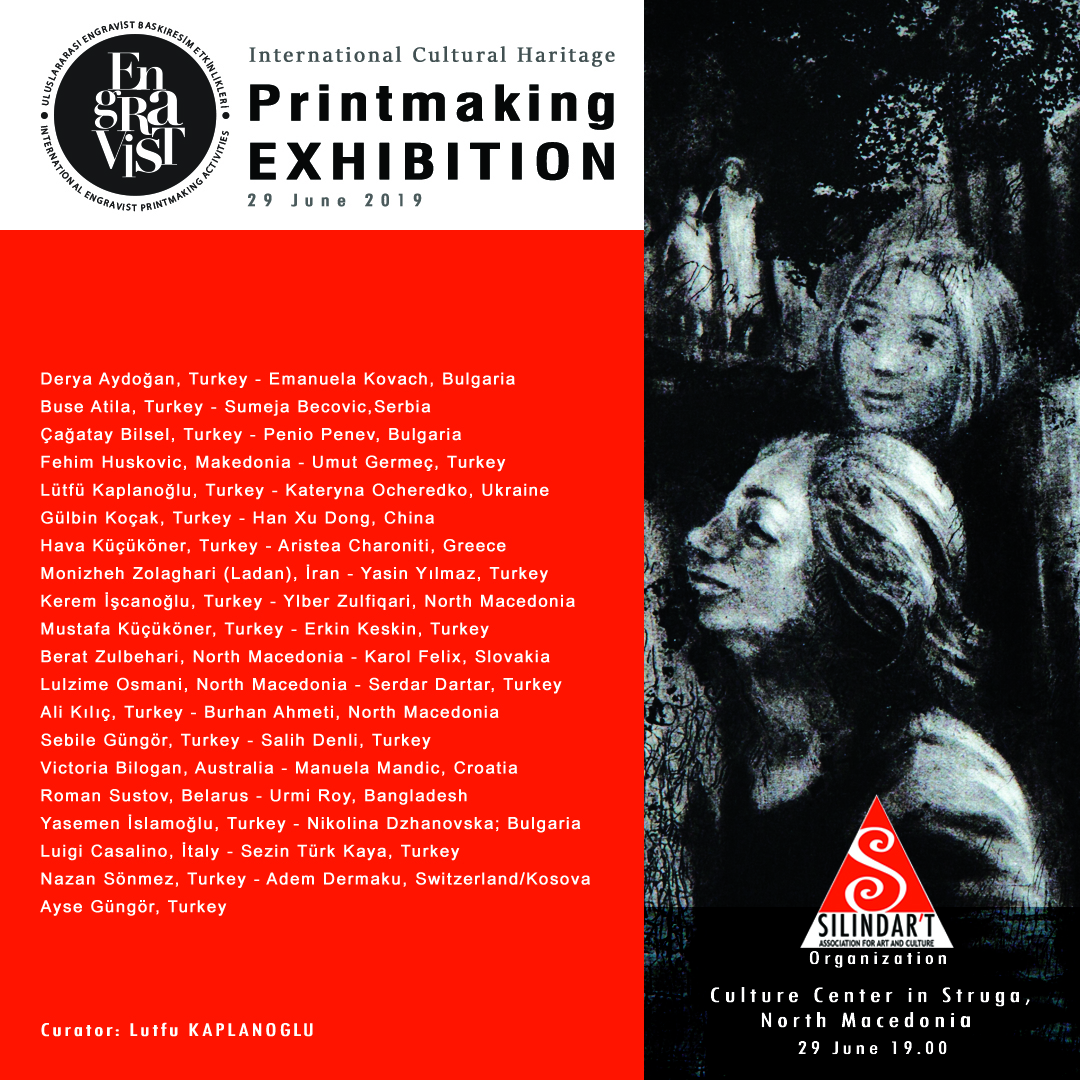 The Engravist which organised 12 workshop and 9 exhibitions will increase the value of printmaking area. To increase the recognition internationally and to have a continuity in the area, the Engravist makes meet a lot of international students, academicians and artists. Concrete and un-concrete historical heritage comes to life in the creative interpretaions of the printmaking.
Participant Artist
Derya Aydoğan – Turkey,  Emanuela Kovach – Bulgaria, Buse Atila – Turkey, Sumeja Becovic – Serbia, Çağatay Bilsel – Turkey, Penio Penev – Bulgaria, Fehim Huskovic – Makedonia, Umut Germeç – Turkey, Lütfü Kaplanoğlu – Turkey, Kateryna Ocheredko – Ukraine, Gülbin Koçak – Turkey, Han Xu Dong – China, Hava Küçüköner – Turkey, Aristea Charoniti – Greece, Monizheh Zolaghari (Ladan) – İran, Yasin Yılmaz – Turkey, Kerem İşcanoğlu – Turkey, Ylber Zulfiqari – North Macedonia, Mustafa Küçüköner – Turkey, Erkin Keskin – Turkey, Berat Zulbehari – North Macedonia, Karol Felix – Slovakia, Lulzime Osmani – North Macedonia, Serdar Dartar – Turkey, Ali Kılıç – Turkey, Burhan Ahmeti – North Macedonia, Sebile Güngör – Turkey, Salih Denli – Turkey, Victoria Bilogan – Australia, Manuela Mandic – Croatia, Roman Sustov – Belarus, Urmi Roy – Bangladesh, Yasemen İslamoğlu – Turkey, Nikolina Dzhanovska – Bulgaria, Luigi Casalino – İtaly, Sezin Türk Kaya – Turkey, Nazan Sönmez – Turkey, Adem Dermaku – Switzerland/Kosova